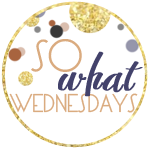 It's that time again!!! So what if...
1.
I have not wrapped a single Christmas gift yet. I am saving it for this weekend. I don't know why I do this to myself. I stock pile all gifts and then am swimming in a sea of gift boxes, paper, etc. I cannot count how many times I lose my tape, scissors, and marker. I think have to get up and search under everything...only to realize I was holding it in my hand the whole time. I am awesome.
2.
My free personal training session is this evening. When I signed up for my gym, I got one free session. I am looking forward to getting some advice in my workouts. Since I have joined, I have stuck mainly to cardio machines. I stare longingly at the weights section, but do not venture over, because I have no clue how to use the machines properly. I am going to make sure she teaches me.
3.
I have a coffee drinking problem. I have been like a half a pot a day at work. This is a lot for me. It tastes good on these cold days though.
4.
My kids watch the most irritating cartoons ever! They choose this awful cartoon called Courage the Cowardly Dog on Netflix and they watch the SAME episodes on repeat. It grinds my gears. Oh well, I am sure there is something that I was obsessed with as a kid that my parents hated. Karma is a bitch.
5.
I need new glasses and keep putting off going to the optometrist...mainly cause I lack vision insurance. It's only my eyes, right? Just kidding. I plan to get on the ball soon.
6.
It is only the 2nd week in December and I am already sick of Winter. OVER IT!
7.
I have been seriously considering going back to school to earn my doctorate in higher education. I am skeeeered though. Some day I will take the plunge and just do it.
8.
I have run out of things for the day. Happy Wednesday!!