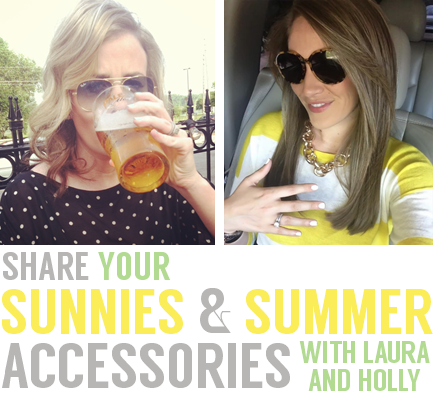 I was going to write something a little more serious today, but I decided I didn't feel like it, because it's Friday! No one wants heavy on Friday, right? I decided to participate in yet another link up. What can I say? They are fun and Holly is churning them out this week! If you have not visited
Holly
and
Laura's
blogs yet, you should. They are two on my list of favorites.
Anyway, on to the link up! Summer is an interesting time for me. I love it because I work in education -- which usually equals summers off. That alone makes it awesome. The part that I dislike is the part where it is hot outside and I have to show more skin. I am trying really hard to break out of my comfort zone and buy more shorts and the like, but it is hard. I am getting there though. ANYWAY, these are my favorite summer time accessories:
Elle Sunglasses from Kohls:
I have never spent much on sunglasses -- especially since I have had children. I have witnessed my daughter take a pair of sunglasses and break them in half with her superhuman baby strength. It was always one of those situations where it all happened in slow motion and I could not get them from her fast enough. I know now that nothing is safe in my purse -- so my sunglasses now reside in my car. Anyway, I love the Elle line of sunglasses at Kohls. They are very affordable -- especially on sale (Which, let's face it, Kohls is always having sales that claim to have the "lowest prices of the season.") They are always cute and have some kind of embellishment on the sides that make them just a bit prettier. They look expensive, but I love the fact that I can usually buy them from under $20.
Vera Bradley Mailbag:
I am on the go a lot with the kids during the summer - at amusement parks, playgrounds, zoo, etc. I love this bag because it can carry a lot and because it has a long strap, so I can wear it across my body. That way, my hands are totally free for kid wrangling. Anything Vera Bradley is going to be on the pricey side (full price this bag is $78). I never pay full price for Vera though. My mother and father - in law live in Fort Wayne, Indiana, which is the location of the annual Vera outlet sale. THAT is where I buy my Vera stuff -- discount/outlet style. So, I think when I purchased my mailbag it was more like $30. You can usually find lower prices on their website also as long as you choose a print that may be discontinued soon.
Bobs Shoes - Sketchers
What came first -- Bobs or Toms? No clue. Don't care. I always like to buy a pair of canvas shoes for summertime. When I am out with the kids, flip flops are not always ideal for me. Running after a 3 year old in flip flops is comical at best. Also, the mulch at the playground makes walking in flip flops at the playground a huge pain...sometimes literally. These are so comfy! I tried on both Bobs and Toms and Bobs won for me. They were more comfortable AND they were more affordable -- they are about $10 cheaper, but Shoe Carnival was having one of their awesome sales, soooo...Bob wins. PLUS, if you buy a pair of Bobs, Sketchers donates a pair of shoes to the Shoes4Soles charity which gives shoes to children living in impoverished areas. Shoes and charity? I'm in.
Genius Fit Capris by Lane Bryant
I usually live in capris over the summer, because shorts and I don't get along at this point. Again, I am working on it. This summer, I have purchased Genius Fit denim capris from Lane Bryant. I love them because they hold their shape. I am kind of in between sizes right now, so once the tightness of the freshly washed jeans wears off, I get a saggy jean ass and my 'draws start to slip down. These don't do that -- ever. It rocks. Again, these can be pricey, but you have to hit good 'ol LB when they are having a good sale. I NEVER buy anything full price from them. I had one of their Gift Cheque thingies which discounts $25 off a $75 purchase AND capris were $20 that weekend. So, I got a GREAT deal. Another thing I liked about these is that the cuff is not sewn in -- as in you can unroll these. I usually go for this because I have freakishly wide calves (thanks to my grandfather -- why do we always inherit the icky traits?) and when they are cuffed it is a bit snug. When they are unrolled they are a little longer, but they look very cute. I have some Real Women Dollars that I may redeem for another pair of these babies this weekend. Score!
Aveda Pure Abundance Style Prep
This stuff is the bee's knees! I have really fine hair, so any styling I do, is useless during the summer because of the humidity. My hair just deflates and looks like, well, crap. THIS STUFF has been awesome! When paired with a hair dryer and a round brush, this stuff gives my hair the body it needs, humidity or no. I mean, my hair still will not hold a curl in the summer (Have yet to find a hairspray that works for that, so if you know of one, let me know!), but at least with this stuff I can still have volume. This is definitely a splurge for me ($24/bottle), but it lasts a long time -- a little goes a long way. Several months of good hair days is worth $24 to me.
Neutrogena Healthy Skin Liquid Makeup:
Now, while I have not been blessed with an awesome metabolism or normal sized calves, I was blessed with nice skin. Sooo, that means I don't have to do much in the makeup department. I do like to put on a light foundation though and this stuff rocks! It is very light and natural looking. I also like that it has sun protection built in. I am very low maintenance when it comes to cosmetics, so, for me, this is perfect. It is great for summer because it is so easy and protects my skin.
Avon Glazewear Lip Gloss
I love this stuff year round, but it is great for the fun, simple look that I like to sport during the summer. I love lip gloss way more than lipstick anyway. I love the shine and it is just pretty. I know it has to be reapplied way more often than lipstick, but oh well. It's purdy.
Well, that about wraps it up, I guess. I had fun doing this! Happy Friday!