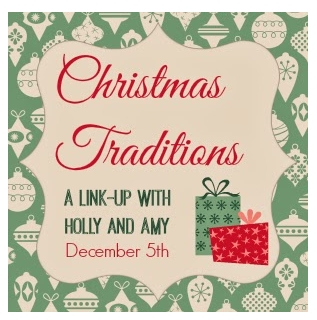 I am a little late to the party, but I decided to join
Holly
and
Amy
today with the Christmas Traditions link up. I had a post ready that I thought I had published, and it did not work. I would hate to put a post to waste, so here is my look at Christmas traditions -- just a day late!
Tradition has been a part of the Christmas season for me for a long time. My parents always had tradition for us, and I have made every effort to create it for my own children also. Traditions don't even have to rooted in creativity or anything like that. Sometimes they are totally random. My first tradition is a prime example
Filet 'O Fish
As a child, on Christmas Eve, my family and I would ALWAYS eat at McDonald's. We would also ALWAYS eat Filet 'O Fish sandwiches. The reason? Well, I am not sure about the fish sandwich part, but on Christmas Eve my family and I would always go to the children's mass at church and then drive about an hour and a half to my grandparent's house for Christmas Eve festivities. We had to eat on the run. It may seem silly, but even as I grew up, I still had a McDonald's fish sandwich at least once per year.
Andy Williams Christmas Album
Listening to Andy Williams' Christmas album was a necessity. We listened to that CD on repeat throughout the holiday season. I feel sorry for anyone who has not had Andy Williams in their life at Christmas. I was soooo excited a few years ago when Tim bought his Christmas albums on vinyl.
A Christmas Story
A Christmas Story: My dad and I always had to watch this movie at Christmas time. This was BEFORE it was played on TBS for 24 hours straight. We took it so seriously that one Christmas I wanted a keyboard and we got through all the presents and no keyboard. My dad pulled a "Christmas Story" moment and pulled the keyboard out of a hiding place behind the couch. I was so excited. I didn't get a Red Rider gun, and I surely wasn't going to shoot my eye out playing my keyboard, but it was a great memory.
Christmas Eve
The kids on Christmas Eve last year
Christmas Eve has always been my favorite. The anticipation of Santa arriving, quality time with family...nothing beats it!
I always wake up early on Christmas Eve and make big turkey lunch/dinner for us at home. I love to cook and Christmas Eve is the perfect day for something a little more special. In the evening, we all get dressed up and make the drive to Connersville, Indiana for Christmas Eve with my grandfather, his wife, and my parents, sister, aunt, uncle, and cousin. We "feast" on snacks and sweets. We open gifts. It is always very special. It is not the same since Grandma passed away, but it is still a tradition that we all hold dear.
Cincinnati Zoo Festival of Lights
We are zoo members, so we go multiple times each season. It is festive it is fun. We all love it! It is a great family event.
Fort Wayne, Indiana Santa
We go see this every year on Thanksgiving night. It is this HUGE Santa in LED lights which is on the side of a building downtown. His sleigh and reindeer are included, but it was far too big for me to get in one shot without walking across the street...and it was cold...and dark...and when this picture was taken, I did not have panoramic pictures on my phone.
Christmas Tree and Village
What happens when Darcy hangs ornaments-- all in one spot!
Our mantle this year
The Christmas tree, at least, is a given. The village is a tradition that my mother started in our home when I was a kid. I loved it. When I got married, my grandmother and mother purchased me my very first pieces. My mother-in-law continued to purchase me some pieces. I have several more pieces than featured on my mantle right now, but I ran out of room. I have my favorites up and try to rotate them out each year.
Christmas Vacation
BEST. CHRISTMAS. MOVIE. EVER!! I know I already talked about a move in the beginning, but oh well. I watch this every single year while wrapping Christmas gifts. I cannot wait until my kids are old enough to watch this movie and appreciate it. If they do not like it, I just don't know what I will do. My dad and I went to see this movie together when it came out in theaters. He took me for a special night of Christmas shopping, dinner, and a movie. This was the movie. It was the best night ever. I got quality time with dad, I bought my mother a tacky as hell sweatshirt that she pretended to like and buried in her dresser (can't say I blame her), and saw a Christmas movie classic. Maybe the memories behind the movie are why it is so important to me. It is damn hilarious though. Where's the tylenol!!