It's link up time!! I really enjoyed linking up with
Holly
last week for my
letter to my 21 year old self
. This week, she is hosting a wedding link up, and I thought it looked like fun. So, here goes..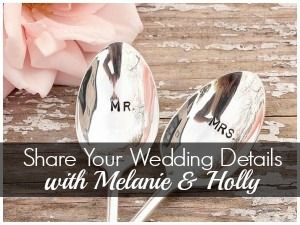 My wedding is probably one of my most fond memories. It was quite literally the perfect day. It was beautiful, it was fun, it was everything that I envisioned when I pictured my wedding day. I guess I will break things down a little because I could ramble endlessly and change topics continuously without setting some writing parameters.
Date: October 19th, 2002 - The weather was perfect. It rained a little in the morning, but my Mamaw told me that it was good luck to have a little rain on your wedding day, and she was a wise woman. The sun came out and it was beautiful.
Wedding Party: The wedding party included our closest friends and family. There are an uneven number of groomsmen and bridesmaids, but that is the way it had to be. I wanted these ladies in my wedding. While some may find it odd that it was a bit uneven, it worked out really well. Maid of honor was my sister, Carrie. Best man was Tim's best friend, Jeremy.
Colors: Violet and Silver
Catastrophes? None, really. The only hiccup was that the florist called my mom 2 weeks before the wedding cancelling because she fell ill. My mom was able to find an awesome replacement at the last minute. She didn't even tell me about it until the new florist was in place...because that is how much my mom rocks. (She knew I'd worry.)
You planned your wedding on Sweetest Day? Really? Well, yes, but no. When we set the date, we had no idea because we don't observe Sweetest Day-- under protest. I mean, come on, we all know Hallmark made it up to pick up profits during a slow greeting card season. Anyway, I didn't realize it until mom and I started visiting florists and they wanted to charge more because of it being a "holiday."
Ceremony: Ceremony was at St. Mary's Catholic Church in Richmond, Indiana. It was a Catholic wedding mass (AKA: 2 hours long). I know it was important to both sides of the family that we do it the traditional, Catholic way, and that was fine with me! We did all this preparation and had all of our friends and family together celebrating. Why have it end in 10 minutes? It was very traditional. We chose classical, traditional music that was played on the old pipe organ -- very beautiful.
I was nervous (as all brides and grooms are), but I was most nervous about being a ball of tears during the ceremony. I was most nervous about my dad making me cry. We are close and there tends to be that father/daughter moment before walking down the aisle. My dad did the coolest thing. He looked at me and said, "You know, I saw the strangest thing on TV the other day. Celine Dion was on VH-1 singing a cover of an AC/DC song. Isn't that just awful? Such a shame." That lightened the mood and I was able to laugh and smile with that thought in my head. No tears.
The only thing that went "wrong" during the ceremony is that my veil kept falling off. No biggie. Just a pain.
My favorite picture from that day.
Reception: Reception was nothing short of awesome. It was so much fun! We had good food (although I cannot remember eating a bite -- I was told it was good though), music, dancing -- the whole enchilada. We stayed until the last guest left. )It was a relief, cause I needed my mom to help me with my dress, so I could pee.) I really was sad to see the night end. The highlight of the evening? The DJ played "Who Let the Dogs Out" (No, this song was NOT the highlight of my evening. I do have some taste. Keep reading...) and we are all having so much fun, we just keep dancing anyway. Well, my lovely grandmother appears on the dance floor and starts dancing right along with us!! It was the best thing in, like, EVER!! My grandma was a tiny, very conservative, reserved woman. I had never seen her let loose like that. It was amazing and a memory I will always cherish. Thankfully, the moment was captured on video.
Honeymoon: We went to Vegas! It was a lot of fun and our first real vacation together. I hope we can go back some day -- now that we aren't poor newlyweds and can stay somewhere nicer than the Circus Circus.